Helpful Prepaid Energy Links
CONNECT SERVICE

TODAY
For
as little as
$40.00
With Smartricity + Flex Pay 0
Min. balance to start service is $40.00. $100 credit requires an initial payment of at least $75. The $100 credit is paid in installments of $10 every 30 days for 10 months. Service must be maintained for 180 days or all promotion credits will be charged back to the account.
Contact Us
We are happy to walk you through the process of switching to prepaid energy, and answer any questions you may have about our services and how it works.
FREE ELECTRICITY

$100 in Free Electricity for a limited time save Call 1-888-620-3785 to enroll.

FREE CONNECTION*

*Free connection in Oncor, AEP and Centerpoint coverage areas. Coverage Map for zoning
Get BOTH offers above for a limited time. Call 1-888-620-3785 for details!
The Payless Power sales number is 1-888-620-3785. The service line can be reached Monday-Friday, 8:00 AM - 8:00 PM and Saturday 9:00 AM - 5:00 PM.
With prepaid electricity in Texas, you can take advantage of the following features and benefits.
Never

pay an electricity deposit

No

credit checks

No

contract rate

Low rates -

always competitive with other prepaid companies
Pay as you go!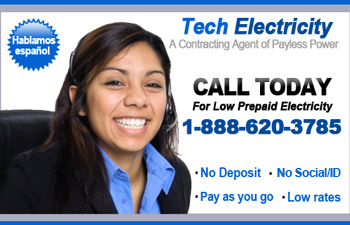 Sign Up in
15 minutes or less
Call: Payless Power