Helpful Prepaid Energy Links
CONNECT SERVICE

TODAY
For
as little as
$40.00
With Smartricity + Flex Pay 0
Min. balance to start service is $40.00. $100 credit requires an initial payment of at least $75. The $100 credit is paid in installments of $10 every 30 days for 10 months. Service must be maintained for 180 days or all promotion credits will be charged back to the account.
Payless Power New Customer Pricing
Payless Power's per KWH rates are flexible and may vary, but they will always be competitive. Call 1-888-620-3785 for our current rate.
We are happy to walk you through the process of switching to prepaid energy and answer any questions you may have about our services and how it works.
Special Limted-Time Offers
$100 New Customer Credit
ALL
CUSTOMERS RECEIVE LOW
MONTHLY KWH RATES
CALL 888-620-3785 FOR DETAILS!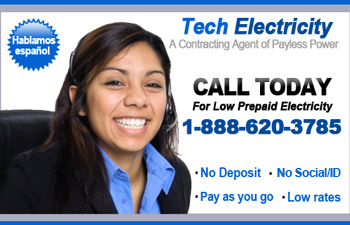 In addition, Payless Power offers the FlexPay payment option which allows you to pay what fits your budget. Call today to learn more. The choice to choose Payless Power is easier than ever!
Call 888-620-3785 for details!
Advantages of choosing Payless Power's
prepaid electricity pricing
structure.
No deposit
No ID or credit check
No termination fees
Multiple payment options
Low monthly rates
Low KWH Rate
Customer has a very good idea of how much monthly bills will be going forward
Details:
Upon receipt of payment, the customer's order is submitted to ERCOT; the account will typically go "active" within 3 to 5 business days for standard service and same day or next day for priority service. The customer will then be texted and or e-mailed daily on their usage and balance. Along with the daily usage, the customer will also get an estimation on the number of days that service will last. If the balance falls below $0.00 a disconnect order will be sent out. Once the minimum balance is met a reconnect order is sent out and the electricity is normally reconnected within two hours.
Prepaid service requires a minimum prepayment for service in order to get connected. $100 of FREE Electricity pertains to prepaid service and the credit will be added to the account in installments of $10 every 30 days for 10 months. Prepaid customers will be required to pay enough to satisfy the connection balance described in the Terms of Service to start service. If service is not retained for 180 days, all promotional credits will be reversed or charged back.
Sign Up in
15 minutes or less

Call: Payless Power