Helpful Prepaid Energy Links
CONNECT SERVICE

TODAY
For
as little as
$40.00
With Smartricity + Flex Pay 0
Min. balance to start service is $40.00. $100 credit requires an initial payment of at least $75. The $100 credit is paid in installments of $10 every 30 days for 10 months. Service must be maintained for 180 days or all promotion credits will be charged back to the account.
Humble, Texas prepaid electricity
Payless Power offers cheap prepaid electricity service in Humble, Texas. With prepaid electrity in Humble, you can take advantage of the following features and benefits.
Never

pay an electricity deposit

No

credit checks

No

contract rate

No

late fees - ever

Low rates

- always competitive with other prepaid companies.
Pay as you go!
If you live in Humble and need prepaid service please call 888-620-3785 for more information and easy sign up. Our service line Monday-Friday, 8:00 AM - 8:00 PM and Saturday 9:00 AM - 5:00 PM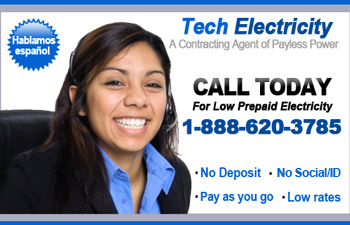 Sign Up in
15 minutes or less
Call: Payless Power
We offer prepaid electricity service in most deregulated electricity markets in Texas. Call 888-620-3785 to check for availability in your area. Check our Texas electricity coverage map for availability in your area.